Draft Profile: Derrick Brown Could Be The Type Of Force The Colts Need Up Front


[img=64x0]https://static.clubs.nfl.com/image/private/t_thumb_squared/f_auto/colts/ozrvqlss6vaonqfoxm1q.jpg[/img]


Jake Arthur




COLTS.COM CONTRIBUTOR


[/url]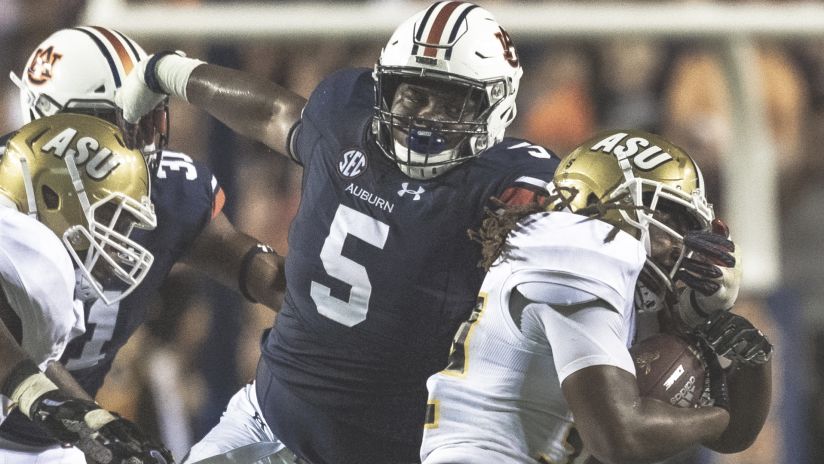 (AP Photo/Vasha Hunt, File)
The analysis from those producing content on Colts.com does not necessarily represent the thoughts of the Indianapolis Colts organization. Any conjecture, analysis or opinions formed by Colts.com content creators is not based on inside knowledge gained from team officials, players or staff.
[b]INDIANAPOLIS —

[/b] You know something that keeps offensive coordinators up at night? Interior defensive linemen who wreak havoc up the middle in the trenches.
This year's NFL Draft class has some potential game-wreckers who fit that billing, but perhaps none are better than Auburn's Derrick Brown.
Over the last two seasons, the senior has been named an unanimous All-American, First-Team All-SEC and the SEC Defensive Player of the Year in 2019 as well as Second-Team All-SEC in 2018.
Brown was a three-year starter and appeared in 53 games for the Tigers, including bowl games to punctuate each of his four seasons. In that time, he had 170 tackles (33.5 for loss), 13.0 sacks, five forced fumbles, four fumbles recovered, eight pass breakups and one blocked kick.
At 6-4, 318 pounds, Brown has both the size and athleticism to be able to play in several spots along three or four-man defensive fronts. Auburn took advantage of that, moving him around their formation to capitalize on different matchups.
Brown starts with a good first step and shows a powerful burst off of the snap. When he makes contact, he displays both excellent upper body strength and drive with his lower body. It often results in him bending or driving the blocker backward, giving Brown more space to penetrate the offense's backfield.
In the run game, he tracks the ball carrier by keeping his arms extended against the blocker's chest while driving his legs, making him available to fall off the block and collapse in on the runner as they pass by.
Brown has continued developing some moves to help him get by blockers ([url=https://youtu.be/IUBYwW3kP_g]

including a spin move

), but often can slip a block by jerking the blocker to the side so he can get to the oncoming ball carrier. He also has quick hand movement to quickly slap away a block attempt and slip past into the backfield.
Although he's well over 300 pounds, Brown has good open-field speed and can track the ball down beyond the line of scrimmage. Quarterbacks aren't safe just because they've escaped the pocket.